By Jay Atkinson
AIS Network CEO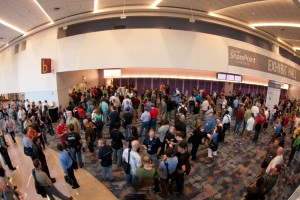 The Microsoft SharePoint Conference 2011 has officially kicked off!
For those who are unfamiliar with it, the conference has been billed as "the most comprehensive event on SharePoint and related technology." SharePoint is a robust business and one of Microsoft's best-selling products.
This year, 7,500 attendees make up the sell-out crowd in Anaheim. They are gathering to participate in more than 240 sessions presented by Microsoft, SharePoint experts and customers — panels that focus on how SharePoint customers "can use the product as a platform for critical business applications, collaboration, content to where the cloud and a growing SharePoint ecosystem will take the product next."
This morning, conference attendees heard from Kurt DelBene, president of Microsoft Office Division; Jeff Teper, corporate vice president of SharePoint; and Jared Spataro, senior director of SharePoint product management. Their combined keynote address examined "the current state of the SharePoint business" and its bright future.
Below are some key talking points:
In 2008, SharePoint exceeded $1 billion in revenues. It is the fastest Microsoft product to attain this milestone, and it's growing at double-digit speed.
More than 125 million SharePoint licenses have been sold to over 65,000 customers.
Over 62 million SharePoint 2010 licenses have been sold.
If SharePoint were a stand-alone company, it would be one of the top 50 software firms in the world.
80% of the Fortune 500 run SharePoint.
SharePoint is #1 in satisfaction, likelihood to recommend, awareness, and market share.
SharePoint enjoys a healthy ecosystem with 700,000+ developers and 4,000+ trained partners.
Currently, there are 1,000 ISV solutions for SharePoint 2010 and another 1,000 in development.
This year alone, Microsoft trained more than 93,000 partners on the SharePoint platform.
We eagerly await the Microsoft SharePoint Conference 2012 (November). See you then in Las Vegas!