AISN operationalizes your IT strategy. Solving complex IT challenges and managing digital risk to help clients thrive in an unpredictable world has been AISN's core business for 30 years. We've built our reputation on the strength and agility of our team as well as our expertise in compliance and security.
For the second consecutive year, AIS Network is ranked on the Inc. 5000 list of the nation's fastest-growing private companies. For 30 years, we've been the trusted partner of Forbes– and Fortune-ranked global corporations, government agencies, the Commonwealth of Virginia and others.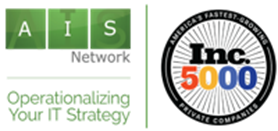 AIS Network was founded in 1993, before the commercial internet took off and before most businesses had a website. Back in the day, our clients were commercial, enterprise-level businesses that wanted to modernize their operations by leveraging our expertise in managed services for hosting; help desk and end-user support; dedicated servers; migration and implementation of Microsoft Exchange, SharePoint and other applications; networking and diverse support services. And with that, our company blossomed.
Under the ownership of CEO Jay Atkinson since 2009, AISN has continually expanded its infrastructure and capabilities with significantly augmented data center capacity and service offerings. AISN began delivering cloud solutions and services, including the AISN private cloud and 24x7x365 support, long before AWS, Google or Microsoft Azure were widely adopted. Multi-cloud/hybrid cloud management service offerings soon followed.
In 2012, AISN won the first of multiple government IT contracts, which extended our reach into the public sector. Supporting federal, state and local governments as well as educational institutions allowed our team to grow, and with that, so did our reputation for reliability and client support. Forbes– and Fortune-ranked corporations began hand-selecting AISN as their trusted small business partner for large, high-value private and public sector contracts.
In addition to cloud, our strengths in cybersecurity, enterprise architecture and application development matured rapidly. To address the evolving complexities of client projects, we intensified our focus on compliance, extended our project management capabilities, deepened our Active Directory services expertise and broadened our award-winning application development practice across all stages of the application lifecycle, including meeting an increasing demand for website compliance and remediation services.
AISN Today
Today, AISN is ranked on the Inc. 5000 list of America's fastest-growing companies for the second consecutive year, and Virginia Business Magazine selected our company as one of its 100 Best Places to Work in Virginia (#50). We've become a recognized, SWaM-certified (#723554) leader in IT and cybersecurity managed services and have won multiple regional, national and international design excellence awards during our journey.
Our clients range from Fortune 500 clients and multi-billion dollar government agencies to private organizations spanning multiple industries, including health care, education, financial services, manufacturing, technology and engineering.
Mutual loyalty, integrity, transparency, accountability and agility is foundational to our client relationships, which are lasting. Some commercial clients have worked with us for years, including a major retailer with 4,500 stores that has been with us for more than two decades. In the public sector, we've served government agencies and other public entities since 2012 and drive exceptional value through our deep knowledge of public sector data protection, compliance, governance and internal auditing. For example, in the Commonwealth of Virginia, we support 60,000+ state employees and contractors daily as well as the complex IT infrastructure and security needs of dozens of state agencies.
Leveraging our deep expertise to operationalize IT strategy. We work with clients who need to formulate a complex IT strategy and then put it into action. It's all about bridging the distance and filling the gaps between strategy, engineering, integration and business process. That includes focusing on the necessary security and compliance bits that no one enjoys sorting out — risk management and remediation, monitoring, auditing, governance, procedures, controls and deep training.
Our stringent security requirements make our clients very happy. Typically, they hail from highly regulated industries such as health care, government, education and finance. They're uncompromising, because they're protecting extremely sensitive data. They require enhanced security, higher compliance, stellar performance, greater customization, increased agility and supreme confidence that AISN has their back in any situation.
AIS Network is the choice of brands that refuse to compromise on security.
Operationalizing Your IT Strategy
AISN is a Virginia SWaM-certified business currently ranked among America's fastest-growing companies and one of Virginia's 100 Best Places to Work. We're a leader in managed services for cloud, cybersecurity, enterprise architecture, award-winning application development and IT project management.
Strategic Technology Partnerships
At AISN, we don't believe that "one size fits all" is the way to offer cloud solutions. Our business model is built on the belief that our clients deserve customized cloud platforms designed to meet their specific compliance, security and operational needs. If you have questions about the cloud or cloud enablement services, we have answers. Our experts are always happy to discuss your needs, so get in touch with us today.