Cloud Backup & Disaster Recovery
Proper data protection is critical to meeting business and regulatory demands. Our reliable, high-security/compliance backup and disaster recovery solutions allow you to restore your protected infrastructure to the cloud, dramatically improving recovery times and lowering costs.
Our Disaster Recovery Solutions
You don't have to be hosting your data and apps with AISN to use our customized Cloud Backup and Disaster Recovery Services.
Our solutions are powered by advanced technologies, such as System Center 2016, Windows Server 2016, and Hyper-V Replica.
Do you have an affordable, compliant disaster recovery plan for your data center? One with…
Why do you need a disaster recovery plan?
Hardware failure, human error, system failure, natural disasters, computer viruses, theft, and accidental deletion contribute to the data loss problem. Whatever the issue, unrecoverable data loss impacts customers and employees and can mean serious repercussions for your business, including lost revenue and a damaged reputation.
How can you mitigate the risks?
Nothing can help you mitigate these risks like a tested, fully compliant backup strategy and a solid disaster recovery solution that meets even the most stringent compliance requirements for electronic storage and data access.
Our team can help
Whether you're hosting with us or in your own data center, we offer everything from local backup services and geographically dispersed cloud backup, within or outside your network, to disaster recovery services powered by the latest technologies on the market.
Because backup and disaster recovery strategies are never one-size-fits-all, AISN's expert team will help you customize, deploy, and manage a data protection plan that enables you and your company to remain calm and confident about your data continuity and the role that it plays in your overall business continuity plan.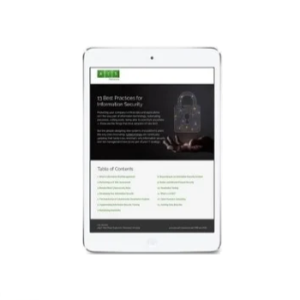 13 Best Practices for Information Security
How to perform an IT risk assessment:
At AISN, we don't believe that "one size fits all" is the way to offer cloud solutions. Our business model is built on the belief that our clients deserve customized cloud platforms designed to meet their compliance, security, and operational needs.
We have answers if you have questions about the cloud or cloud enablement services. Our experts are always happy to discuss your needs, so contact us today.