At AISN, internships have always been a part of who we are. We love offering opportunities to students who want to learn and grow in preparation for careers in the technology industry.
When I was a journalism student and intern, I distinctly recall my mentors, the type of work that I performed, the feedback that I received, and the environment in which I worked. I resolved that if I ever owned my own business, I would ensure that our internships were top-notch — offering meaningful and essential work, consistent feedback from a senior team member, and lots to learn in an exciting and fun environment. Well, more than 30 years later, here we are! AISN internships offer all of this and more to boot.
Now in its eleventh year, AISN's robust, paid internship program has consistently benefitted a diverse group of regional undergraduate and graduate college students seeking paid professional work and qualifying college credit. We offer meaningful opportunities in most aspects of our business, such as marketing/sales, network operations, and information security. Still, perhaps most importantly, we also offer mentorship and personalized career assistance once the internship has been completed.
AISN internships offer stints from 3 months up to 18 months, and our framework is designed to ensure that by an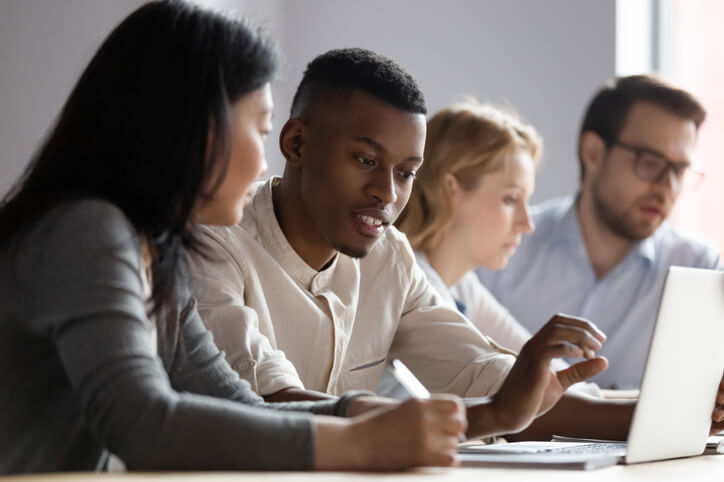 internship's end, our interns have taken on a series of substantive projects that will enable them to feel as though they've grown professionally, learned valuable new skills and gained clarity about their future career.
From the day that they are onboarded to the day that they conclude their internship, our interns are consistently exposed to and/or managed by senior staff. They develop a clear sense of what their role and responsibilities will be and are included in all company-wide events for full-time staff and contractors. With their input, our senior staff craft a mutually beneficial training system to balance what the interns want and their unique talents with the valuable skills that we feel they can learn to advance AISN's mission.
AISN celebrates diversity and inclusion and prioritizes recruiting those underrepresented in the IT industry. Current and previous AISN internship classes are a testament to that effort. We have recruited interns from Virginia Commonwealth University, Radford University, Virginia Tech, The College of William & Mary, James Madison University, Penn State University, and the University of Maryland at College Park.
Throughout their experience, AISN provides interns mentorship, career assistance, and help to build a résumé. Significantly, all AISN interns have moved on to promising careers with companies such as Impact Makers, the Richmond-based management and technology consulting company; CIBT, a leader in global mobility solutions; SAIC, a leading government contractor for infrastructure implementation and managed services; RAPP, the worldwide marketing and advertising agency; and prominent Virginia financial planning agency Yeske Buie.
I completed my last internship more than 30 years ago, but I will never forget what it's like to be an intern. My experience has informed our internship program, and I am proud of the progress that we've made. Our interns will agree, I think, that AISN internships are a great way to get started in the information technology and cybersecurity fields.
NOTE: If you want to explore AISN internships in the IT and cybersecurity fields, drop me a line at laurie.head@aisn.net. I recommend applying directly through the Virginia Commonwealth STEM Industry Internship Program (CSIIP).
Laurie Head is a co-owner of AIS Network.