GUEST BLOG
By Michael V. Velotta
Founder, Intelishift Technologies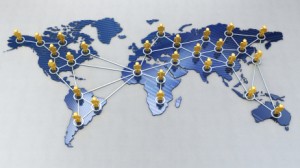 Last month, a prospective client asked a very good question related to the performance of his hosted SharePoint deployment.
The hosted SharePoint environment that he currently has deployed across North America, Western Europe and India is very slow.  Latency is an issue – 20 seconds to upload a file.  He wanted to know how he can minimize latency with a hosted SharePoint solution.  In short, he was concerned about performance.
Latency between Washington and Western Europe ranges between 80 milliseconds (ms) and 140 ms, depending on the country and the carriers within the country.  From Western Europe to Chicago, I'll add 25 ms to that number.
Latency between Washington and India is 250 ms to 280 ms.  The wildcard here, however, is inside India.  India is heavily oversubscribed and a bad carrier could skyrocket the latency to north of 500 ms.  We've had a little more success from Fremont (CA) to India and can get the latency down to 200 ms; then we have the in-country latency issue again.
The holy grail (this is what large SharePoint shops do) is to have SharePoint servers at a datacenter "near" their offices: one in Washington, one in India and maybe one in Greece.  Then the SharePoint servers can sync up behind the scenes (or nightly).  The user's latency problem goes away and the SharePoint servers are left to keep in sync without impacting the user's experience.
What is your experience with this?  I'd be interested in your comments.
Michael V. Velotta is a technologist and entrepreneur.  He is the founder of Intelishift Technologies, a strategic data center solutions consultant for a diverse set of clients, including high-end technology firms, Fortune 500 companies, non-profits and government agencies.