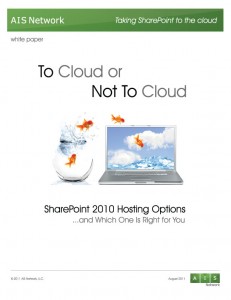 AIS Network has released a new white paper, "To Cloud or Not to Cloud: SharePoint 2010 Hosting Options…and Which One Is Right for You."
By Michael Emrich – Associate, Marketing & Sales
This Thursday will be a big day for AIS Network. Not only will it be the first day of SharePoint Saturday in Northern Virginia, an event we will be attending for the first time, but we will also be rolling out our first-ever white paper. Entitled, "To Cloud or Not to Cloud: SharePoint 2010 Hosting Options…and Which One is Right for You," the white paper will serve as both a guide to SharePoint and its hosting and an in-depth analysis of the rapidly-growing cloud-based hosting platform for SharePoint.
The paper will serve as a guide to the many hosting options that SharePoint users have available to them. Some of the questions addressed in the paper include:
What are your SharePoint hosting options?
What are the pros and cons of each option?
In what situations would each be preferable?
What does each method need from you in order to work?
Selecting a hosting method needs to be a very educated decision, and this white paper is your text book.
The cloud-based hosting method will be discussed in great length, chronicling the explosive growth of hosting SharePoint in the cloud and what kind of options you'll have available to you. The whole concept of cloud computing is still a relatively new one, so this white paper will hopefully educate you and clear up any misconceptions that you might have about the cloud.
So, if you're going to be at SharePoint Saturday in Northern Virginia, stop by Booth #419 and pick up a copy. Or, if you're more interested in an electronic copy, keep an eye out for the white paper's pdf release on the company Web site.