By Jay Atkinson
AIS Network CEO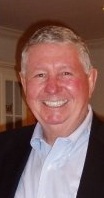 This week, we remember Randall Ford, who succumbed to a lengthy battle with cancer on Sunday. He believed in the AISN mission and was instrumental in this phase of its growth. But most importantly, he was an encourager, a mentor, and a friend.
Randall Leon Ford was born in Marmaduke, Arkansas, on December 15, 1938, a son of Roy Ford and Rosie Foster Ford. He graduated from Pocahontas High School in 1956. He attended Arkansas State University and graduated from University of Mississippi; later, he was commissioned as 2nd Lt. in the U.S. Army in 1961. He returned to Arkansas State University and received a Masters in History while on active duty in 1972.
Randall retired in May 1986 after 24 years of active service – including a tour in Germany, two tours in Vietnam, a tour at NATO Land South in Turkey, and service at several posts in the Military District of Washington. In 1989, he co-founded StarTech, a security company in Washington, DC, where he continued to work until he sold the company in 2005. He is survived by his devoted wife, Ann, two sons and a grandson – and innumerable people whom he touched throughout his life.