Successful cloud migration begins with a series of key decisions and simple steps forward such as choosing to run Windows Server and SQL Server on Azure. Why Azure? Customers choose Azure for their Windows Server workloads for three reasons: cloud security, increased agility and reduced costs.
You mean I can't just use my old Windows Server technology? Why not?
Let's first take a step back and look at why failing to use the latest Windows Server technology puts your business at risk. There are three main reasons:
Outdated Technology
Aging technology enables data breaches
Lack of digital transformation and services
Operational Inefficiencies
Struggle to stay relevant and get ahead
Inefficiencies in delivery processes and customer service
A reactive approach to operations that falls short
End of Support
End of life for Windows Server and SQL Server 2008 and 2008 R2
No access to critical security updates, risking business interruptions
Organizations may fail to meet compliance standards and industry regulations
Moving Windows Server and SQL workloads to Azure allows you to do big things. For one, it provides flexible, scalable and highly available cloud infrastructure. Who doesn't appreciate that?
You can also modernize digital processes and stay relevant by using Windows Server and Azure SQL Server to ensure data security, optimize operational processes and improve profitability. You ready for the big list now? More benefits include:
Pay less, get more by running any part of your business in the cloud – on your terms and timeline.
Spend less time managing servers that are running locally and more time adding business value.
Respond quickly to changes with the ability to add capacity during peak seasons and reduce it when you need less.
Pay only for what you use for short or seasonal cloud needs or pay a predictable rate for always-on critical services.
Manage cloud costs with Azure tools that easily track utilization and follow cost savings recommendations.
Modernize and scale with flexibility by migrating server apps to Azure and bridging existing infrastructure at your own pace.
Access enterprise-grade server infrastructure without having to run your own on-premises servers and storage by running Windows Server on Azure virtual machines.
Migrate business-critical apps with surprising ease when you're ready and at your own pace, by migrate one, a few, or all your apps at once.
Get unlimited innovation by building new apps on Azure to better serve your customers – such as web apps with chat bots.
Simplify management of Windows Server anywhere by using Windows Admin Center to manage Windows Server in Azure and on your own servers.
Update and protect applications with unmatched security and business continuity to protect from threats.
Guard against threats using built-in security features across on-premises and cloud deployments.
Stay up and running with full backup and recovery to the cloud.
Make app access easy with secure single sign-on so that employees can safely access their apps and devices from anywhere.
Protect apps running Windows and SQL Server by upgrading to the latest version in Azure or stay protected with 3 more years of extended security updates.
With that kind of support, you're freed up to innovate rapidly and contribute toward your business' digital transformation.
This infographic from Microsoft presents their take on the benefits of running Windows Server and SQL Server on Azure: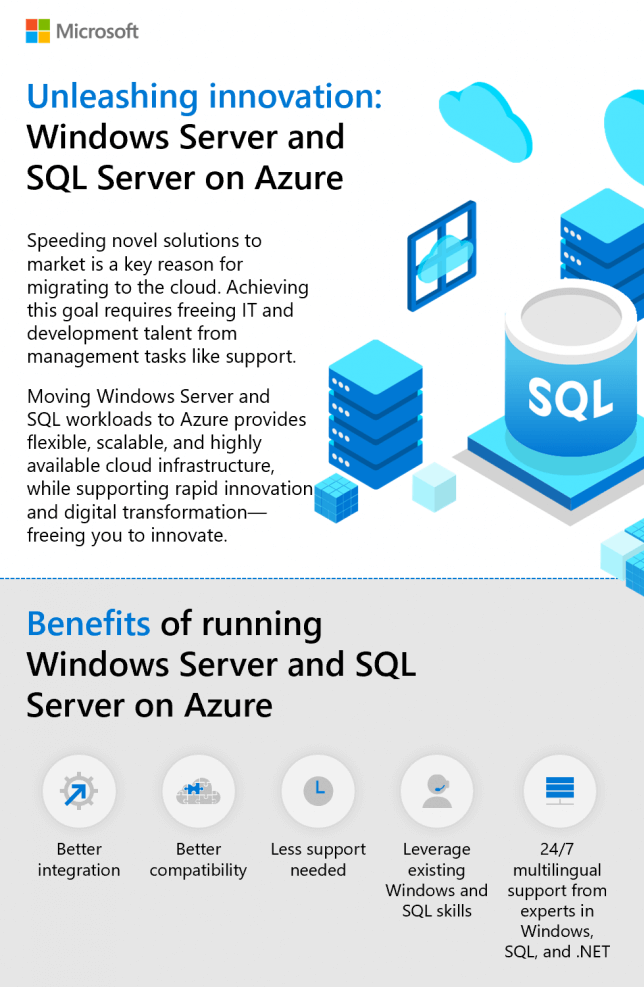 How can we help you make a decision? Are you interested in a trial approach? We've been working with Azure for years, and we know that migrating to Azure can yield significant savings too — definitely more cost effective than running all of that on AWS. So, contact us today and we will help you get up and running.
Laurie Head is a co-owner of AIS Network.