Have you been trying to figure out the ROI of Microsoft Azure IaaS?
Have a look at this infographic, which I thought was interesting. It shows a recent study's conclusions about Microsoft Azure IaaS' five-year financial impact. These were drawn from six customer interviews and data aggregation.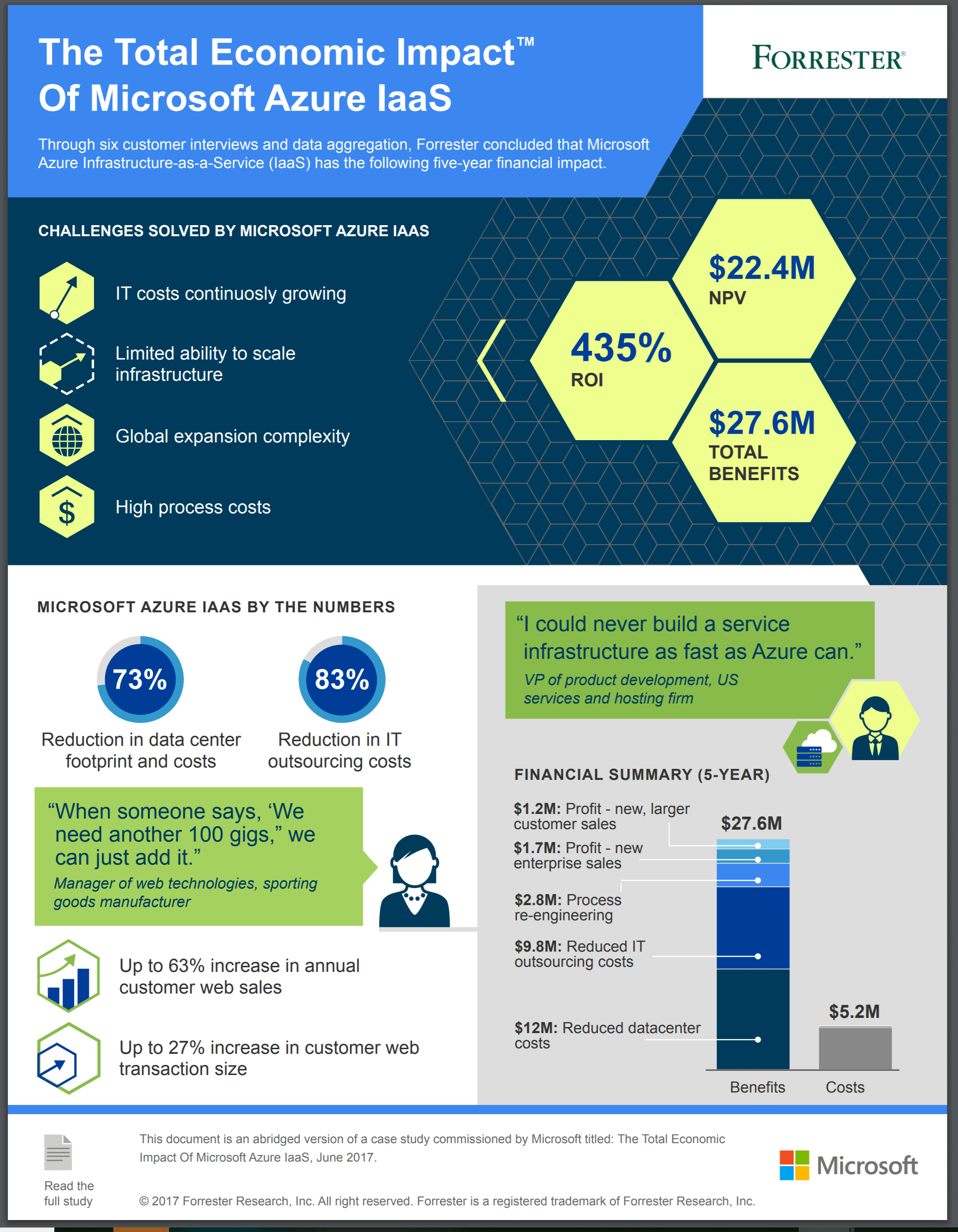 The Total Economic Impact of Microsoft Azure IaaS
The 2017 study, "The Total Economic Impact™ of Microsoft Azure IaaS," gives insight into both the costs and benefits of large-scale Azure implementation.
Conducted by Forrester Consulting, the study analyzes the return on investment and business impact that several enterprises experienced, because they had moved from a primarily on-premises environment to Azure. The companies interviewed come from a variety of industries and locations (global/multinational, North American, and European).
In addition to a 435 percent overall return on an Azure IaaS investment, the businesses also experienced:
Reduced data center and outsourcing costs.
Website scale and performance improvements.
Ease of experimentation through virtualized environments.
Developer and tester improvements.
Three Reasons to Migrate to Microsoft Azure IaaS
So what's the case to be made to the C-Suite? There are many, but I will give you the most important three.
Lower your total cost of ownership
Move your on-premises workloads to Azure to lower your total cost of ownership (TCO) — get cost advantages from economies of scale, use flexible compute options in Azure to right-size and optimize resource utilization. Save even more with offers like Azure Reserved VM Instances and Azure Hybrid Benefit. Optimize your cloud resources and manage your budget with free Azure Cost Management.
Take advantage of a secure, reliable, and global infrastructure
Achieve global scale across 42 announced regions, more than any cloud provider. Take advantage of industry-leading availability, disaster recovery, and SLA options for your infrastructure. Rely on the cloud with the most comprehensive compliance coverage. Detect and mitigate threats with a built-in, centralized view of all your Azure resources.
Adopt the cloud with low friction
Simplify and accelerate your Azure adoption initiatives with comprehensive, technical resources and process guidance that's customized to your workloads. Use tools and solutions from Microsoft and an ecosystem of system integrators and managed service providers to help meet your needs—regardless of where you are in your cloud migration.
VMware (On-Premises) vs. Azure
You can gain significant TCO efficiencies by migrating VMware environments to Azure:
Moving to Azure reduces hardware, operations, and virtualization software costs
Azure Reserved VM Instances and Azure Hybrid Benefit offers provide further savings
Once on Azure, customers can access tools to optimize and modernize workloads, unlocking even greater savings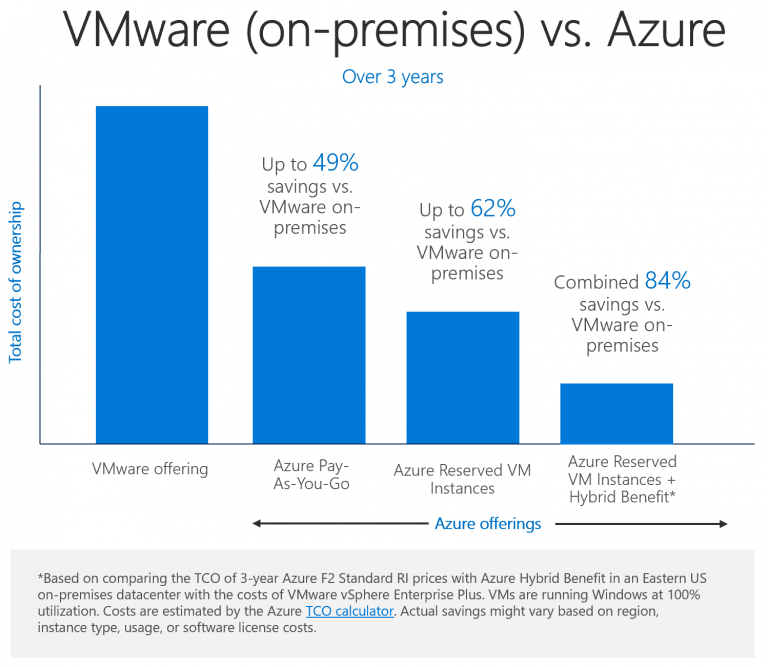 Microsoft Azure provides a frictionless approach to moving VMware virtual machines to Azure, enabling you to reap significant TCO benefits. Gain from economies of scale, use tools to optimize resource utilization, and take advantage of flexible compute options in Azure. Save even more with offers like Azure Reserved VM Instances and Azure Hybrid Benefit (for Windows Server workloads), all while taking advantage of first-class, first-party support for your Microsoft workloads.
For example, for a typical customer running 500 Windows VMs on VMware vSphere on-premises, TCO can be over $5.5M over a 3-year period. Supporting this many systems incurs vast expenses across hardware, physical datacenters, and IT labor. By simply migrating to Azure, you can take advantage of immediate savings in hardware and datacenter costs and benefit from optimized IT management and access to first-class single vendor support.
Migrating to Azure, or building new deployments in Azure, enables you to take advantage of offers like Azure Reserved Virtual Machine Instances and Hybrid Benefit. If the VMware customer in this example used Azure Hybrid Benefit for Windows Server and Azure Reserved Virtual Machine Instances, the organization could save up to 84 percent over the total cost of running on-premises.
Are you interested in learning more about the potential ROI that could be realized by shifting some or all of your management and operations to Azure?
Contact us today for a free, in-depth consultation.