By Laurie Head
AIS Network Vice President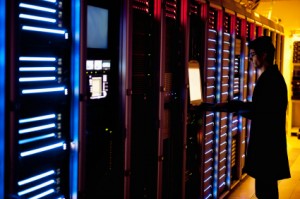 Do you remember what you were doing in 1993? We do. AISN started its hosting business back in 1993.
Remember the way IT management used to work back then—in the 20th Century?
The vast majority of small- to mid-sized businesses ran their mission-critical servers in-house, often ad-hoc. Frequently, those servers were tucked away in poorly ventilated closets with little or no physical security (not to mention the challenges of virtual security).
Back then, servers hosted in-house were costly, onerous, complex and not always dependable, mostly due to the lack of knowledge and resources needed to keep them in top-running condition. Businesses committed to high up-front IT costs—easily exceeding $10,000 for the units—plus the burden of all operational costs and staff time tied to server maintenance and upgrades. Those mission-critical servers were not maintained 24x7x365 and unanticipated downtime was not unusual. There were always worries about power and space availability, and the failure of one or more servers meant potentially catastrophic consequences—especially to the bottom line. This was all before managed hosting, or "outsourcing" of mission-critical servers, had evolved significantly into a more widely accessible and affordable alternative ideally suited for small- and mid-sized businesses.
Today, with radically new and efficient technological approaches to hosting and virtualization, the 21st Century is ushering in a sea change that is transforming IT management. Increasingly, businesses are losing the old-style, "do-it-yourself" bias of the last century. They're no longer shelling out big bucks for hardware and hassling with in-house server management. Instead, they're dumping their aging IT assets to embrace emerging solutions such as managed hosting, virtualization and cloud-based computing.
Why? Because these more reliable outsourcing options have finally become accessible and affordable. And, within the next decade, you can expect that their growing appeal will become uniformly mainstream. During that time, managed hosting — and more likely cloud hosting — will become an even more important market with a broadening range of relevant uses.
The 1990s was the Decade of the Internet. The 2000s was the Decade of Social Media. It has been suggested by some that the 2010s could be the Decade of the Cloud. Do you agree?