By Bill Peters
AIS Network Director of Sales
Windows Server 2012, which was released last fall, is the latest among Microsoft's Windows Server product offerings, and it delivers a dramatically simplified licensing experience.
What went away? Away went the Enterprise edition, which was retired. Windows Server 2012 Standard edition includes all the premium features previously included in Enterprise edition. Away went the Web Server, and now web workloads running on a Windows Server 2012 edition will continue to receive the "CAL waiver" that is in effect for these workloads today. Windows Server CALs will not be required to access the licensed server if it is only being used to run web workloads. Away went HPC Products. Microsoft will now deliver the HPC Pack 2012 as a free download that can be used with any Windows Server 2012 Standard or Datacenter license. HPC workloads running on Windows Server 2012 Standard or Datacenter editions will continue to receive the "CAL waiver" that is currently in effect for these workloads.
So what's new? Well, now there are just four Windows Server 2012 editions from which to choose. And, shaped by feedback from customers and partners, the new Windows Server licensing approach should help make choosing the right Windows Server a whole lot easier too.
Windows Server 2012 Licensing Overview
Microsoft holds that its new licensing approach will deliver the following benefits to its Windows Server customers:
Simple. It's easier than ever to determine the right Windows Server edition for you. Choose from just four editions of Windows Server 2012, based on the size of your organization and your requirements for virtualization and cloud computing.
Economical. All editions of Windows Server 2012 deliver excellent economics and ROI for your business. For example, the Datacenter edition, with its unlimited virtualization rights, provides the benefits of cloud-level scale with predictable, lower costs. The Standard edition now offers all of the same enterprise-class features as the Datacenter edition and is differentiated only by virtualization rights.
Cloud-optimized. Businesses today are rapidly adopting a hybrid approach across private and public cloud computing. Windows Server 2012 offers the right edition for you, no matter where you are on your path to the cloud. Use the Datacenter edition for highly virtualized cloud environments, the Standard edition for lightly virtualized environments progressing toward cloud, or the Essentials edition for an ideal cloud-connected first server.
Here's the Windows Server 2012 licensing at a glance: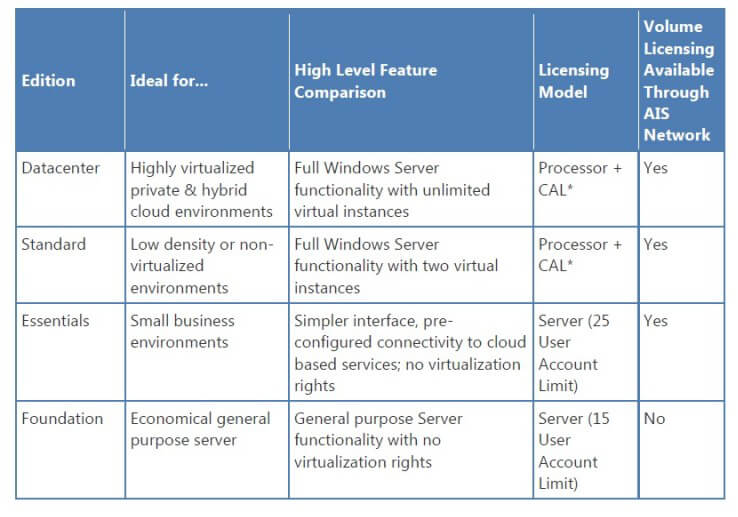 *CALs are required for every user or device accessing a server. See the Product Use Rights for details.
Why a streamlined licensing model for core infrastructure? In short, this new model enables easier assessment and management of your server environment. For one thing, a single licensing model makes it easier for you to purchase the right product for your organization's needs and also compare the cost of alternatives. Another plus is that it allows for a single, familiar and easy-to-track metric for all infrastructure products (reducing management overhead). Finally, as part of the alignment with the Microsoft private cloud licensing model, Windows Server 2012 and System Center 2012, as well as Enrollment for Core Infrastructure (ECI), now all have the same licensing and packaging structure. Simple and convenient, right?
Choosing Between the Windows Server 2012 Standard and Datacenter Editions
Obviously, the Foundation and Essentials editions are for small business. If you are a mid-size business or a large enterprise, like the majority of AISN customers, your choice lies between Standard and Datacenter. When it comes to determining which of the two editions is best for your enterprise, there are only two words to keep in mind: virtualization rights.
Both the Standard and Datacenter editions provide the same set of features (including high availability features like failover clustering). The only differentiator between the editions is the number of Virtual Machines (VMs) being used. If your strategy calls for a highly virtualized environment, then the Datacenter edition provides you with optimum flexibility, since it allows for unlimited virtualization. If you aren't ready to heavily virtualize your environment, a Standard edition license entitles you to run up to two VMs on up to two processors.
Calculating Your Windows Server 2012 License Needs
So, how do you decide how many licenses you'll need? Good question. Because the Datacenter edition allows for an unlimited number of VMs, only physical processors need to be counted when determining licenses for the Standard edition. Here's a quick formula:
1 license = 2 physical processors
To determine the number of licenses needed to fully license a physical server, simply count the number of physical processors in the server and divide that number by two. That will tell you the number of licenses you need.
Each Standard edition license provides you with the right to run up to two VMs. If you want to run additional VMs but do not require the highly virtualized environment that Datacenter provides (which is unlimited VMs), then you can simply purchase additional Standard edition licenses and assign them to a single physical server in order to increase your VM entitlements on that server.
Now for the nitty gritty. What activities are NOT allowed under theWindows Server 2012 licensing? You cannot:
Mix Windows Server 2012 Standard and Datacenter licenses on the same server. All of the processors on a given server must be licensed with the same version and edition.
Split your Windows Server 2012 license across multiple servers. Each license can only be assigned to a single physical server.
Assign a Windows Server 2012 license to a virtual machine. A license is assigned to the physical server and each license will cover up to two physical processors.
Use your Windows Server 2008 CAL to access Windows Server 2012. The CAL accessing the instance of Windows Server must be equivalent to or higher in version than the server being accessed.
Factoring in Software Assurance
A number of enterprise customers will be concerned about how Software Assurance will work with Windows Server 2012. Here are some scenarios.
Software Assurance and the Datacenter Edition. If you have Software Assurance on the Datacenter edition, you are entitled to the Windows Server 2012 Datacenter edition. On the old version, a Datacenter license covered up to 1 processor. With Windows 2012, a Datacenter license covers up to 2 processors. So, for every two current Datacenter licenses with Software Assurance, you will receive one Windows Server 2012 Datacenter edition license.
Software Assurance and the Enterprise Edition. If you have Software Assurance on the Enterprise edition, you're entitled to receive two Standard edition licenses for each Enterprise edition license that you have.
Software Assurance and the Standard Edition. If you have Software Assurance on the Standard edition, you're entitled to receive one Windows Server 2012 Standard edition license for each Standard edition license that you already have.
Software Assurance and the Web Server Edition. If you have Software Assurance on the Web Server edition, you'll receive an additional Windows Server 2012 Standard edition license to use while also maintaining your right to run your current Web Server license. For every two Windows 2008 R2 Web Server edition licenses, you'll receive one Windows Server 2012 Standard edition license.
What if I want to upgrade to the Datacenter edition? Remember that the Step-Ups from the Enterprise edition to the Datacenter edition are being removed from the price lists. Therefore, if you've decided to move to a more highly virtualized or private cloud environment, you should consider taking advantage of the Software Assurance Step-Up benefit to upgrade to the Datacenter edition prior to the Windows Server 2012 General Availability.
Purchasing Windows Server 2012 Licensing
Okay, now how do you get going?
You can purchase Windows Server 2012 licenses through multiple channels, which provides you with optimum flexibility and choice to acquire the software. Microsoft Hosting Partners like AIS Network are an excellent resource in evaluating your Windows Server 2012 licensing needs. We can help you evaluate, plan, deploy, and manage any type of hosted system—from a small business implementation to supporting the largest enterprise applications built on the latest technology.
At AISN, we recommend Service Provider Licensing Agreement (SPLA) licensing (as opposed to other volume licensing), based on ease of deployment. How does it work? AISN tracks and manages the licensing for you. We provide a monthly subscription-based pricing plan, including software assurance. This eliminates any large, upfront costs needed to purchase the right amount of licensing as well as the over-purchasing of unused licenses. However, if you own volume licensing we can utilize those licenses in our hosted environments.
Why so many options for licensing? The various licensing options enable you to choose the program that works best for your management and operational needs. We'd be happy to discuss with you in more detail all of your options and how they can be delivered via a custom hosted solution. For a conversation about this and a free quote, email me now (bill.peters@aisn.net) and let me know your needs.
AISN is ready and eager to work with you on all of your hosting needs and on helping to save your business money too.